In early March 2023, Singapore's Ministry of Manpower (MOM) announced that starting September, employers and candidates would need to adhere to the Complementarity Assessment Framework (COMPASS) when applying for an Employment Pass (EP).
On top of meeting a qualifying salary, with COMPASS, EP applicants need to score at least 40 points from four foundational criteria and two bonus criteria. The four foundational criteria are salary, qualifications, diversity and support of local employment; and the two bonus criteria are Shortage Occupation List and Strategic Economic Priorities.
Failing to meet expectations in a criterion nets the applicant zero points, meeting expectations gives 10 points, while exceeding expectations gives 20 points. Applicants do not need to meet every foundational criterion but have to earn enough points in other areas to score 40 and above.
The flexibility afforded by this framework allows companies to hire the high-performing talent they need to fill gaps in their workforce. The table below summarises how applicants will be scored.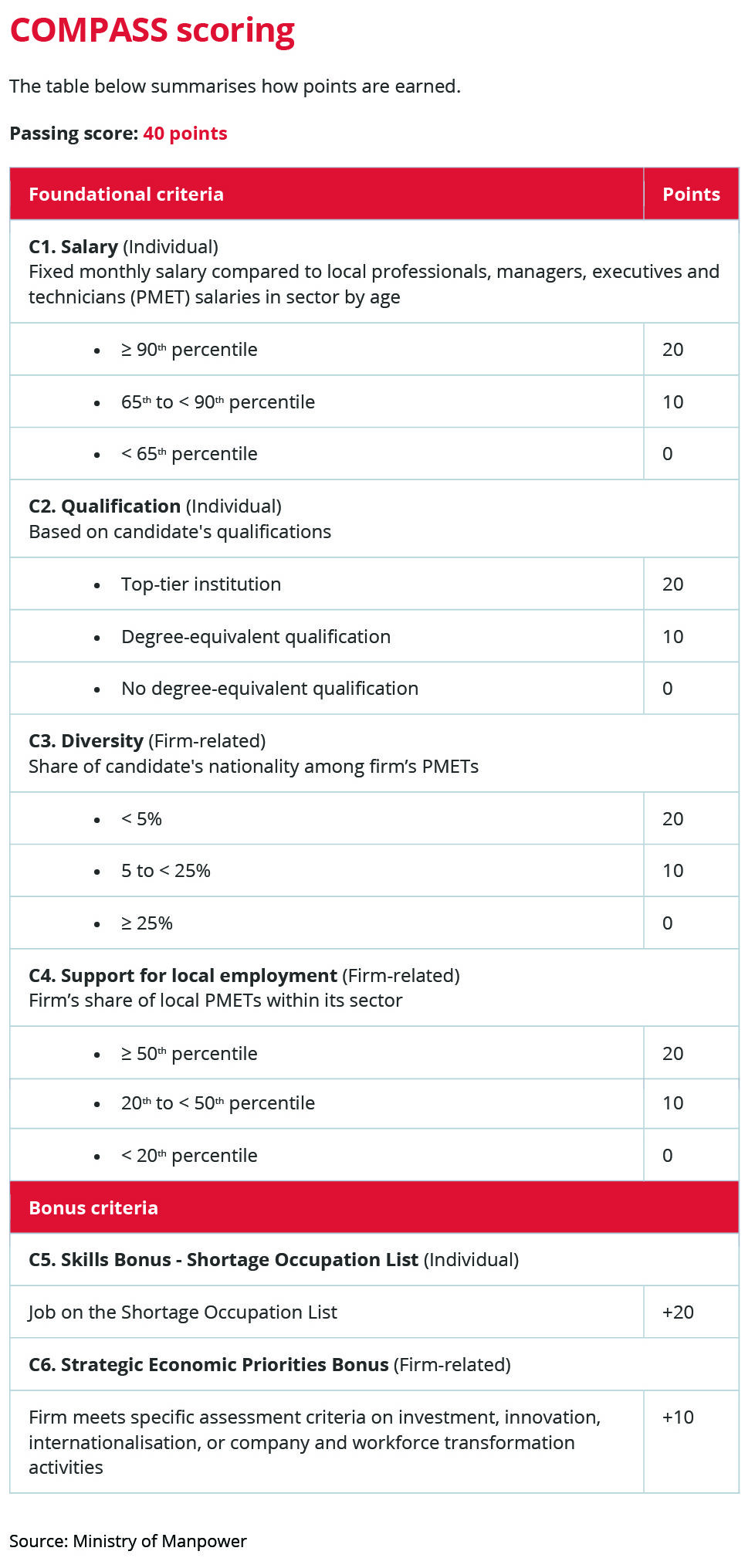 How do the 6 COMPASS criteria help build a better workforce for Singapore?
COMPASS is meant to ensure fairness and non-discrimination towards local job candidates, while still empowering employers to hire the foreign talent that they need to build the most effective and productive team possible. As such, each of the criterion is designed to help ensure that the EP applicant brings into Singapore the right skills and expertise to strengthen the nation's workforce.
For instance, for the salary criterion, the fixed monthly salary for EP applicants is compared to local professionals, managers, executives, and technicians (PMETs) in their respective sector, by age. This helps keep salaries competitive and addresses the issue of employers hiring foreign candidates as a way to save on costs.
The qualifications criterion helps ensure that incoming talent are highly educated and/or qualified persons who will reinforce Singapore's workforce. Additionally, starting 1 September 2023, every EP applicant's educational qualifications must be verified by an MOM-accredited third-party screening company – this helps combat fraud.
Note that if the EP applicant does not have educational qualifications from a top-tier institution or degree-equivalent institution, they will not earn any points for this criterion. However, they can still pass COMPASS by acquiring points in other criteria.
The diversity criterion looks at the applicant's nationality, relative to the applying firm's PMET workforce. It is intended to help develop a more diverse – and hence stronger and more resilient – workforce.
As an EP application framework, COMPASS supports the local workforce by creating opportunities for companies that have a relatively higher share of local PMETs compared to others in their sector – this is where the support for local employment criterion comes in.
In terms of the bonus criteria, to qualify for the Skills Bonus, EP applicants must be equipped with highly specialised skills that are currently in shortage in the local workforce.
These are listed in the Shortage Occupation List. To be eligible for the Strategic Economic Priorities Bonus, your company – as the prospective employer of the EP applicant – must meet specific assessment criteria on investment, innovation, internationalisation, or company and workforce transformation activities.
Maximising the flexibility of the COMPASS framework
With COMPASS, MOM hopes to enable businesses to hire high-quality foreign professionals while improving workforce diversity and building a strong local core. The point system is designed to ensure that all EP applicants can contribute the right skills, knowledge and expertise to the company and to Singapore.
However, the COMPASS framework does come with exceptions, and it may be difficult to understand the fine print of the various criteria. For HR leaders who are looking to better understand the nuances of COMPASS, and what this means for your company and hiring practices, RMI can help.
We are pioneers in this space, among the earliest in Singapore to venture into this area, and have spent the past several years providing support on the employment and verification fronts. Reach out to us today and get a good grasp of the COMPASS framework.